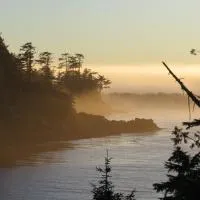 ---
Promo code & hotel info
Hotel name: He-Tin-Kis Lodge, Ucluelet
Address: 366 Reef Point Road, PO Box 861, V0R 3A0 Ucluelet, Canada
City: Ucluelet
Country: Canada
Description: He-Tin-Kis Lodge is a private oceanfront retreat offering only 3 private guest suites, with a common entrance.
Save money: *Get up to 25% off your stay depending on the days of the week you book your room, the duration of your stay, the current availability of the room, the season of the year, and other factors
Promotion code details: No coupon or promotion codes are currently required to save money (any available discount will be automatically applied)
Property description (rooms, rates, deals & more)
He-Tin-Kis Lodge is a private oceanfront retreat offering only 3 private guest suites, with a common entrance. Each suite offers balconies with stunning ocean views, designer décor, flat-screen TVs and free WiFi. A private beach area is accessible by stairs and offers a seating area and fire pit.
The Lodge features heated floors and soaking tubs in every suite. A microwave, mini-refrigerator, toaster, dishes and coffee maker are also included. Free coffee and tea are provided.
The Lodge is nestled in the rainforest, in a quiet bay along the Pacific Ocean. A private beach is available to guests of the He-Tin-Kis.
The town centre of Ucluelet offers shopping and dining options just 10 minutes' walk away. The Pacific Rim National Park and Long Beach are 15 minutes' drive away. Tofino is 30 minutes' drive up the coast. The He-Tin-Kis Park and The Wild Pacific Trail are only steps away.
Brief reviews (in English and other languages)
Stunning view and location. Lovely lodge with everything you need. Lovely and quiet.
We arrived after midnight so weren't able to appreciate the view from the balcony until the next morning and wow it didn't disappoint
This lodge was in a beautiful setting with a wonderful view of the water. The bed was extremely comfortable and there was plenty of space with a sitting …
I loved the view and the place had a great energy. Perfect for what I wanted: peace and quiet.
We booked spontaneously and were so happy as we arrived. Our suite was beautiful with everything we needed and very clean. The sea view and access …
Very clean and the building is pretty new. Area is very quiet and handy walking distances from beaches and Ucluelet.
Beautiful view, nice and warm house, little beach in front
You couldn't wish for a better view of the Pacific from your room. The seascape is so relaxing and peaceful we could've sat and watched it all …
Beautiful setting overlooking a small bay. Clean comfortable rooms, shared entrance for 3 apartments but didn't see another soul. Had a problem where power …
Recommended hotels (additional offers)
If you like this hotel, you might also be interested in:
---
1. Island West Resort, Ucluelet
Island West Resort offers accommodation in Ucluelet. An on-site restaurant offers dining options for guests of the resort. Each room comes with free WiFi and a TV with cable channels.
160 Hemlock st, V0R 3A0 Ucluelet, Canada
---
2. Ukee Peninsula Motel, Ucluelet
Just 5 minutes' walk from the Ucluelet Aquarium, Ukee Peninsula Motel offers guest rooms with a microwave and a refrigerator. A restaurant and a bar are located on site.
1666 Peninsula Road, PO Box 433, V0R 3A0 Ucluelet, Canada
---
Boasting Pacific Ocean views, this waterfront Ucluelet hostel provides free Wi-Fi in all rooms. A private beach area and a fully equipped, shared kitchen are offered to guests.
2081 Peninsula Road, V0R 3A0 Ucluelet, Canada
---
4. Reef Point Cottages, Ucluelet
Located on the West Coast of Vancouver Island in Ucluelet, Reef Point Cottages offers a natural setting only 1.5 km from the Wild Pacific Trail. Each cottage has free WiFi and Optik TV.
1012 Peninsula Road, PO Box 537, V0R 3A0 Ucluelet, Canada
---
5. Pacific Rim Motel, Ucluelet
Located only 4 minutes' from Terrace Beach on the Ucluelet peninsula, Pacific Rim Motel offers furnished suites. Free WiFi access is available.
1755 Peninsula Road, V0R 3A0 Ucluelet, Canada
Final review & details for this lodging
Booking your stay: How popular is this hotel? How well do other people like it? The best way to find out is to read other people's reviews on it, when you go to make your reservation.
Travel Help Guru reference #: travelhelpguruc1v6900