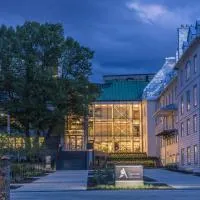 ---
Promo code & hotel info
Hotel name: Monastère des Augustines, Quebec City
Address: 77, rue des Remparts, G1R 0C3 Quebec City, Canada
City: Old Quebec, Quebec City
Country: Canada
Description: Le Monastère des Augustines, a health and wellness centre, is a former monastery from the 17th century that has been completely restored.
Save money: *Get up to 25% off your stay depending on the days of the week you book your room, the duration of your stay, the current availability of the room, the season of the year, and other factors
Promotion code details: No coupon or promotion codes are currently required to save money (any available discount will be automatically applied)
Property description (rooms, rates, deals & more)
One of our top picks in Quebec City.Le Monastère des Augustines, a health and wellness centre, is a former monastery from the 17th century that has been completely restored.
Two room types are available; the "Authentic" rooms, restored in a monastic spirit, are former Augustinian cells with shared bathrooms. The "Contemporary" rooms are modernly furnished while respecting the heritage character of the place. These rooms have a private bathroom.
To promote relaxation and tranquility, there are no televisions or telephones in the rooms. Guests will find one on the upper floor in the living area, where computers are also available. Free WiFi is available.
Guests can also take a self-guided tour of the museum or join a guided tour for an additional fee.
The restaurant offers healthy meals such as vegetarian, raw food, fish, poultry, meat and local, organic produce, in season. A shop and a lunch-counter are also available.
Guests will enjoy the wide range of overall health care and the daily program of activities.
Brief reviews (in English and other languages)
Loved the heritage building and the beautiful, calm energy in the place 🙂
The serenity of the place was terrific. Loved the silent breakfast. Loved the no cell phones in public spaces policy. We stayed in a …
Location is superb, staff are great. kitchen hours can be improved.
Simple yet refined, thoughtful, authentic hospitality. Offering is focused on a person's spiritual and physical well being. Historically significant …
The room (423, one of the contemporary rooms with private bathroom) was superb. Huge comfy bed, a real desk, no television, a view over the convent …
Excellent well equipped room, friendly and available staff, excellent location, walking distance to via rail Canada and orléans Express. Hassle free …
The stay was absolutely phenomenal. This place has a perfect mix of history, religion, and residential. I especially liked the fact that the …
The personnel was really nice, gave us a present for our honeymoon. The room is clean and with basic necessities covered. It's so near of all …
I liked the peace and originality of the building. It was almost like a museum. Spotlessly clean. Very friendly staff. VERY comfortable bed. It would be …
Recommended hotels (additional offers)
If you like this hotel, you might also be interested in:
---
1. Chateau Repotel Henri IV, Quebec City
Only 15 km from Old Quebec City, Chateau Repotel Henri IV provides free WiFi. A flat-screen TV is featured in all guest rooms. Jean Lesage International Airport is 5 km away.
2500 Avenue St-Jean-Baptiste, G2E 6J5 Quebec City, Canada
---
Situated in the heart of Old Quebec, this hotel provides select rooms with a restored brick wall, hardwood floors and electric fireplace.
43 Rue Sainte-Ursule, G1R 4E4 Quebec City, Canada
---
3. Château Fleur de Lys – L'HOTEL, Quebec City
Ideally located in the Centre-Ville of Quebec City, Château Fleur de Lys – L'HOTEL offers air-conditioned rooms with free WiFi and private parking.
15 Avenue Sainte Geneviève, G1R 4A8 Quebec City, Canada
---
4. Econo Lodge Quebec Airport, Quebec City
Located in Ste-Foy, less than 5 km from Quebec International Airport, Econo Lodge Airport features free WiFi and an airport shuttle with surcharge.
7320 Boulevard Wilfrid Hamel, G2G 1C1 Quebec City, Canada
---
5. Chateau Repotel Duplessis, Quebec City
Featuring free WiFi access, Chateau Repotel Duplessis is only a short drive from the centre of Quebec City. This hotel in Ancienne-Lorette provides meeting facilities.
6555 boulevard Wilfrid-Hamel, G2E 5W3 Quebec City, Canada
Final review & details for this lodging
Booking your stay: Want to reserve a room at this hotel? The first thing to do is to see if it's even available on the days you want to stay. So go find that out, and as you make your reservation, you can also read reviews left by other travelers.
Travel Help Guru reference #: travelhelpguruc1v6490