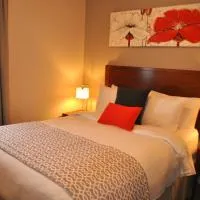 ---
Promo code & hotel info
Hotel name: Auberge Du Marchand, Maria
Address: 530 Boulevard Perron, G0C 1Y0 Maria, Canada
City: Maria
Country: Canada
Description: This inn in the municipality of Maria in Gaspésie, Québec, is located along Chaleurs Bay. Simple rooms provide free Wi-Fi and cable TV.
Save money: *Get up to 25% off your stay depending on the days of the week you book your room, the duration of your stay, the current availability of the room, the season of the year, and other factors
Promotion code details: No coupon or promotion codes are currently required to save money (any available discount will be automatically applied)
Property description (rooms, rates, deals & more)
This inn in the municipality of Maria in Gaspésie, Québec, is located along Chaleurs Bay. Simple rooms provide free Wi-Fi and cable TV.
A private bathroom and desk are common to all guest rooms at Auberge Du Marchand.
A common area with kitchen is available on the main floor. A large garden and terrace are equipped with picnic tables and a fireplace. Children's games and a beach are also accessible to guests.
Regional, bistro-style cuisine is available for breakfast, lunch and dinner at Auberge du Marchand Inn. It offers a bar, as well as a summer terrace. Homemade goods, deli, cheese, chocolates, oils and other products are for sale at its specialty food shop.
This inn is directly in the town centre and just 650 feet from Parc du Vieux-Quai. Beaches, hiking trails and cross-country ski trails are within 1.9 miles of this inn.
Brief reviews (in English and other languages)
The property as beach access and offers chairs and sitting area. There is a IGA right next door if you need anything. The restaurant on site offers …
The room was spacious, with very comfortable beds and TWO comfortable chairs. Great restaurant on premises for breakfast.
Not having to go outside in the morning for a terrific breakfast was so nice!!
While on the Gaspe coastal route, this facility is located somewhat before (or after depending on your direction of travel) the prime tourist region. A …
Lovely room and view. Good service.Food was ok in the resto- but only ok
The charging point for my electric car. The excellent kitchen and comfort of the room.
Good service. Nice room. Quiet and clean. Nice atmosphere. If you are a cook you probably won't like the food in the restaurant…
Comfortable rooms, cleanliness, possibility to eat in a beautiful common kitchen perfectly equipped but at the same time restaurant on site. Location waterfront perfect
The cleanliness, the cozy comfort for the beds and the restaurant
Recommended hotels (additional offers)
If you like this hotel, you might also be interested in:
---
1. Park Inn by Radisson Toronto-Markham
Featuring a convenient location seconds from major area motorways, this hotel is located within driving distance of Toronto city centre and offers comfortable accommodations and thoughtful amenities,…
555 Cochrane Drive, L3R 8E3 Markham, Canada
---
2. Courtyard by Marriott Toronto Markham
Boasting an on-site restaurant, this Markham property offers free Wi-Fi in all areas. A small refrigerator is included in each guest room and an indoor pool is on site. The CN Tower is 30 km away.
65 Minthorn Boulevard, L3T 7N5 Markham, Canada
---
Providing easy access to major area freeways and within driving distance of downtown Toronto, this Markham, Ontario hotel features comfortable accommodations along with modern amenities and an on-site…
8900 Woodbine Avenue, L3R5K6 Markham, Canada
---
4. Homewood Suites by Hilton Toronto-Markham
Conveniently placed in Markham, Ontario, also known as Silicon Valley North, this hotel offers comfortable guestrooms and contemporary amenities just minutes from the excitement of Toronto.
50 Bodrington Court, L6G 0A9 Markham, Canada
---
5. TownePlace Suites by Marriott Toronto Northeast/Markham
Offering an indoor pool and a restaurant, TownePlace Suites by Marriott Toronto Northeast/Markham is located in the city of Markham. Free Wi-Fi access is available throughout the property.
7095 Woodbine Avenue, L3R 1A3 Markham, Canada
Final review & details for this lodging
Booking your stay: How popular is this hotel? How well do other people like it? The best way to find out is to read other people's reviews on it, when you go to make your reservation.
Travel Help Guru reference #: travelhelpguruc1v6018