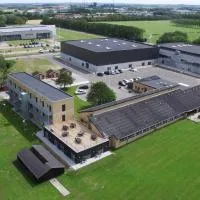 ---
Promo code & hotel info
Hotel name: Park Vendia Hostel, Hjørring
Address: Børge Christensens Vej 5, 9800 Hjørring, Denmark
City: Hjørring
Country: Denmark
Description: Just 2.5 km from the centre of Hjørring, guests at this hostel have access to a TV room, free WiFi and a furnished terrace with BBQ facilities.
Save money: *Get up to 25% off your stay depending on the days of the week you book your room, the duration of your stay, the current availability of the room, the season of the year, and other factors
Promotion code details: No coupon or promotion codes are currently required to save money (any available discount will be automatically applied)
Property description (rooms, rates, deals & more)
Just 1.6 miles from the centre of Hjørring, guests at this hostel have access to a TV room, free WiFi and a furnished terrace with BBQ facilities.
The rooms and cottages at Park Vendia Hostel have simple interiors and come with a private bathroom. Cottages also have a kitchenette and outdoor seating area.
A variety of activities are available on site, with a playground, a pool table and board games free to use. There is a hostel kiosk, and all have access to a communal laundry room.
Guests can also pay for access to an adjoining sports club with tennis course, swimming pools and a gym.
Lønstrup and Skallerup beaches are within 20 minutes' drive, and Hjørring golf club is only 1.9 miles away.
Brief reviews (in English and other languages)
Good value for money. Quiet neighborhood, close to swimming pool. No personell, but easy to get access to room.
Very convenient location on the way further down into europe when coming from Norway.The beds are very comfortable, and the hostel and …
Norvégiából jövet a komptól gyorsan megközelíthető a szállás. A reggeli egyszerű, de elegendő.Az ágyak jók.Az apartmann modern,jól felszerelt …
Le confort des lits, la qualité des produits lors du petit déjeuner
Helt ok rom for meg og familien Kommer gjerne tilbake
Geen ontbijt genomen. Kamer was perfect voor ons doel.Afspraken allen in orde.
Personal sehr freundlich und hilfsbereit. Zimmer sauber und ordentlich. Reichhaltiges Frühstück. Spätes Einchecken möglich.
Vi fik en forkert lejlighed i forhold til det bestilte. Blev ombooket, men til en mindre lejlighed. Rigtig god service og hjælp fra personalet …
freundliches Personal und große saubere Küche, große Terrasse und Aussenbereich
Recommended hotels (additional offers)
If you like this hotel, you might also be interested in:
---
1. Aktivitetshuset Solhjem, Hjørring
Located in Hjørring, Aktivitetshuset Solhjem features a shared lounge, garden, terrace, and free WiFi. Private parking can be arranged at an extra charge.
Præstevænget 1, 9800 Hjørring, Denmark
---
2. Hotel Schaumburg, Holstebro
Next to Rådhustorvet Square, this hotel is 600 metres from Holstebro Train Station. WiFi, afternoon coffee, plus access to Holsterbro Badeland Water Park and a nearby gym are free.
Nørregade 26, 7500 Holstebro, Denmark
---
3. Best Western Royal Holstebro
Set by Den Røde Plads Square in Holstebro, Best Western Hotel Royal Holstebro offers free Wi-Fi, free parking and rooms with cable TV and a work desk. Brotorvet pedestrian street is 120 metres away.
Den Røde Plads 10, 7500 Holstebro, Denmark
---
Situated in a green area in Holstebro city centre, U3z Holstebro Vandrerhjem offers free WiFi, free parking and rooms with shared bathroom facilities. Nørregade pedestrian street is 600 metres away.
Sysselting 2 B, 7500 Holstebro, Denmark
---
This modern hotel features a 12-metre high, Kim Utzon-designed lobby atrium. Its bright rooms include a flat-screen TV and tea/coffee facilities. Horsens Train Station is 5 minutes' drive away.
Egebjergvej 1, DK-8700 Horsens, Denmark
Final review & details for this lodging
Booking your stay: When you got to book your room at this hotel, you can also see reviews that other people have left on it. This will help you be even more confident that you are making a good choice.
Travel Help Guru reference #: travelhelpguruc1v2403